SAUNA LOUNGE
My sauna lounge in modern design: A highlight which preserves your complete attention!
After hiking, enjoy the relaxing atmosphere of my sauna lounge with Finish sauna, Turkish steam bath and rain-dance shower.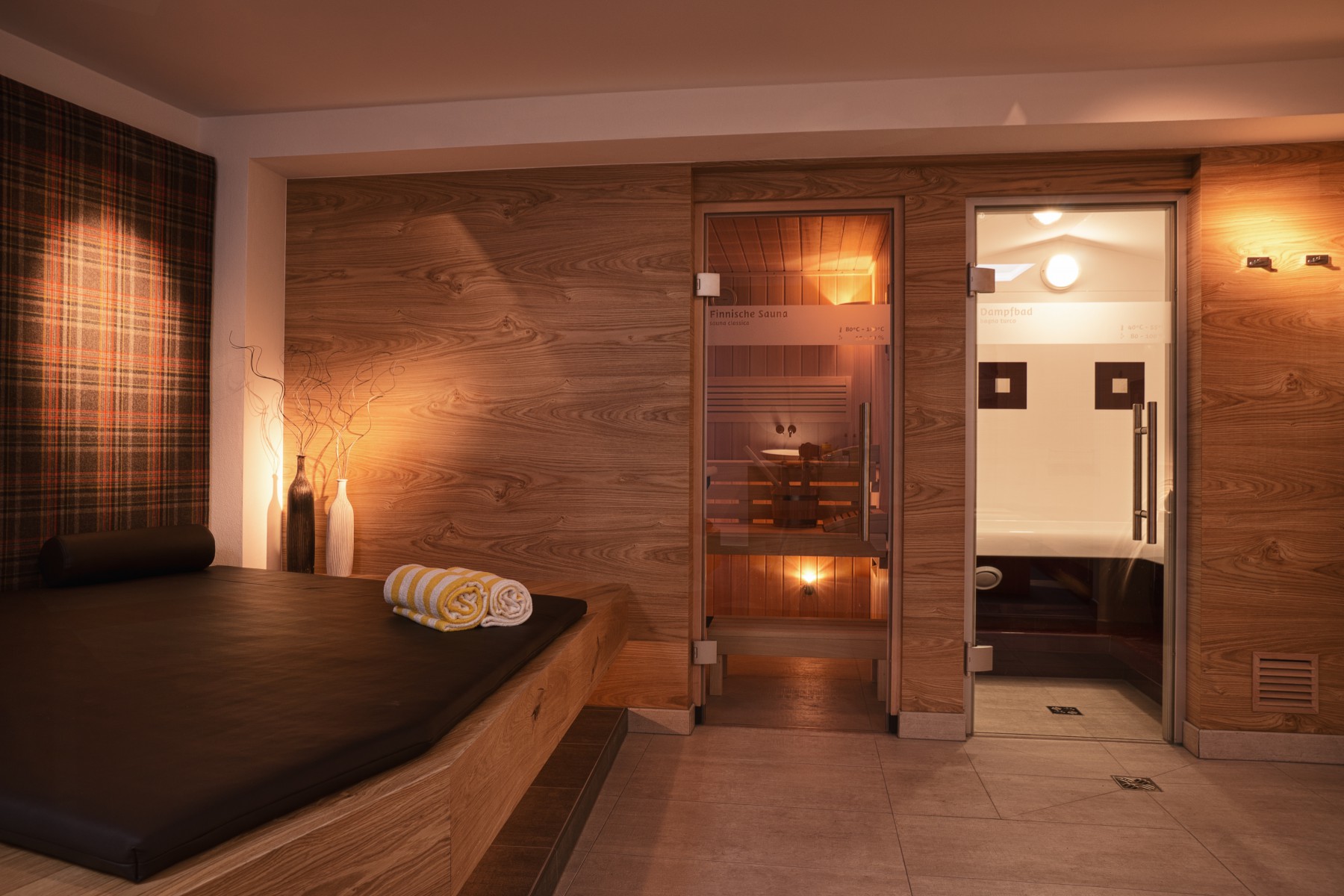 Finish sauna
Taking a sauna relaxes both, your body and your mind. Especially after an exhausting hike, having a sauna will make you feel good. The rest and heat help you to focus on the essential things of life and forget about daily routine and stress. Furthermore, it shortens the period of regeneration after sports and tempers muscle ache and soreness.
Turkish steam bath
If you don't like the heat, our Turkish steam bath may be the right choice. The main differences between the steam bath and the classical Finish sauna are the higher air humidity and the lower temperature, which make the steam bath gentler and better compatible for your respiratory ducts. But never fear you won't sweat: Due to the high air humidity between 80 and 100 %, the temperature between 40 and 50°C feels as hot as the dry 90° C of the Finish sauna.
"Have you forgotten your sauna outfit at home? No problem! For a small fee, I'll lend you bathrobe, sauna towel and sandals for your whole stay!"

Free entry for our guests
The big adventure swimming pool in Prato allo Stelvio is open daily from the middle of June to the end of August and guarantees fun for the whole family. You enjoy free entryas we are a company partner! You're also invited to the weekly BBQ with DJ.
The main attractions of the heated swimming pool are the 42 metres long water slide and the panoramic view of the near mountains of the Ortler Group and Ötztaler Alps. There are also a wide lawn for sunbathing and a paddling pool for the little ones.